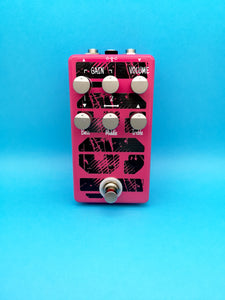 Funny Little Boxes 1991
The 1991 will be back in stock on Monday 4th December. International customers please be aware that you are liable for all fees/taxes/duties incurred at your end; by completing your purchase you are accepting responsibility for these.
Overview
A passion project born of two guitar nerds desire to have a pedal that nailed the sound of Pearl Jam's seminal Ten album; the 1991 is a dirt pedal extraordinaire!
Capturing the spirit and sound of quite possibly the greatest year in music history; the 1991 is Funny Little Boxes first original pedal and is made in collaboration with Matt Webster of the Let's Play All YouTube channel; with the help of some of the finest pedal - building brains in the UK scene. 
Using the sound of the Ten album as it's blueprint, the 1991 gives you the sound of a mid forward overdrive pedal being smashed into a cranked, high - gain amplifier. With two gain stages and a three band eq, the 1991 offers players versatility, affordability and accessibility in spades!
Covering everything from sparkly, gritty boost, through classic overdrive and all the way to furious, driving grunge; the 1991 nails the sounds of 1991 and more.
It's high gain, mid forward, sparkly in the top and easy on the low end. It's a whole ton of tone and fun to boot!
Specs
True Bypass
Power With 9V DC Negative PSU Only!
Max Power Draw: 11ma
Built by Hand in the UK
Condition
Brand New and Box Fresh!